Shortly after the well-received release of iChm 1.1.1, Robin Lu has responded to popular demand and updated his CHM Reader for Mac OS X with support for indexes.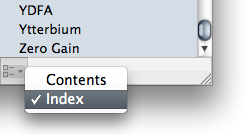 The sidebar now includes a small popup menu (shown at left) which toggles the sidebar to display either the table of contents or the index.
Congratulations to Robin for listening to users and reacting so quickly!
With the new index feature, Sparkle-based application updates and the tag-powered bookmarking system mentioned earlier, iChm is certainly the best CHM viewer available for Mac.