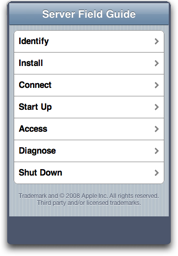 Apple has released the Xserve Field Guide, a web application designed for service technicians that need quick access to server maintenance information during on-site repairs.
The guide is available at two different URLs, one for desktop access via Safari or other Webkit-based browsers and another for mobile access via iPhone or iPod touch.
The guide is a nice example of user assistance closely tailored to the needs of the intended audience.